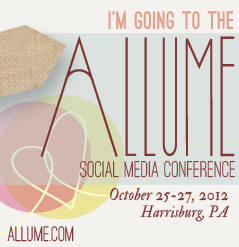 I'm quite excited, although I know for some of you having a tooth extracted probably sounds like more fun...women, writing,
what
?!!
This will be the second time I've attended this particular conference, the first time as a full-fledged attendee (which means I benefit from the fantastic goodie bags they give away!). Last year was one of those funny God stories about opening doors in unexpected ways...I'll tell you the story if you ever want to hear it, but will spare you the details for now.
So, while I LOVE writing conferences and know intimately what they're all about, many of my friends and family members still give me the funny eye and a look that says, "
You're doing what? Again? With whom?"
To answer some of those questions I've included the Allume description and mission below...
Our goal at Allume is to minister to the woman, the blogger, the story teller. We want to love well, encourage, and spur women on to shine the Light that lives within them. We want to serve you in ways that cultivate the Light in you, help you expand your influence, use your influence well (in your home, your community, or around the world) and encourage you with stories of those who are living out the Light.
The Allume Mission:
The Allume conference exists to offer a gathering place for kindred spirits to connect, learn, grow, and be refreshed so they can persevere in being a people who bring hope to the world through the social media medium. We want to reflect His Light in all our spheres of influence. Our goal is to go beyond the surface into intentional blogging and real life living, all to the glory of God. Allume is a one-of-a-kind conference that seeks to engage women by teaching blogging techniques and social media skill while also urging and encouraging women to live fully integrated lives with their faith and family.


So, hopefully I'll return inspired and encouraged. This season of young motherhood is a season wrought with very particular challenges and struggles. The days are long and you are rarely alone. The tasks are numerous and little hands can only do so much to help. You try to set realistic expectations, but viral infections and cranky 3 year olds and third pregnancy exhaustion and nausea kick in. Suddenly nothing seems realistic or reasonable...
And in the middle of it all I (perhaps too stubbornly sometimes) continue to try to cultivate time to write and blog. To take on the occasional freelance article or submit something to an online journal. I try to encourage other moms that it is possible to be a stay at home mom and still be passionate about a hobby or an interest or something slightly professional-ish.
Some days I wonder. Truly. If it's worth it during this season. If it is even ok?! This journey of trying to fit in something that can feel as luxurious or superfluous as writing. It is a journey wrought with frustration, guilt, confusion and doubt on many days.
But, I must confess...I cannot stop...It's an inherent part of who I am. I swear I was born journaling and with a book in my hand! It's as important and as integral to my life as eating (and for those of you who know me, you know how important
that
is). I don't watch much t.v. at night, I read or blog. I don't take fancy trips to European cities (that's partially sarcastic, but sounds like fun nevertheless!) I go to Grand Rapids, MI and Hershey, PA to hang out with Christian women writers.
I suppose there are worse things,
right?!
I love processing my life experiences through words. I love when those stories and words find a connection with the heart of another women who is feeling the same way. I love the camaraderie and the conversation and the spurring each other on to keep going.
So if the journey is wrought with guilt and doubt, it is also propelled forward by faith and hope. Hope that I am doing the right thing, saying the right thing, spending the right amount of time and ordering my priorities in the right way. Faith that God's divine wisdom will guide my tasks and priorities, inspire my words and use me in ways that help bring light to other's lives.
So here I am, getting ready to shuffle off to PA tomorrow morning to hear from folks like Ann Voskamp, Sally Clarkson, Mary De Muth, and many others.
Not to mention actually getting to meet in person many of the wonderful, fun and inspiring women I've "met" virtually through the Allume blog network over the last year.
So if you think about it, would you say a short prayer for me this weekend? For safe travel? For God's wisdom, direction and inspiration? And for my husband and my children who will be at home without me?
I'll let you know next week how it all goes...and what state I find the hubby and children in by the time I get home!
(Just kidding about that last part...kind of...despite allowing the girls to where mismatched clothing and socks that they seem to dig out from the pit of their dressers when I'm not around, my husband is one of the best and most capable dads I know!)